Snyk for Developers
Find vulnerabilities in your repos and remediate risks with updates and patches.
Quick start with GitHub
Snyk for DevOps
Block vulnerable libraries in CI/CD, monitor PaaS/Serverless apps for dependency flaws.
Sign up to get started
Snyk for Enterprise Security
Regain visibility into open source risk and empower your developers to address it.
Contact us for a demo
120,000+

developers using Snyk

1,000,000+

packages monitored

100,000+

projects protected
83% of organisations use vulnerable dependencies
"It's time to start scanning all of your open source components for known vulnerabilities. Doing so will eliminate the majority of your application security risk."

Neil MacDonald,

Gartner
How is Snyk different?
Best database of known vulnerabilities in libraries
Goes beyond finding issues to actually fixing them
Truly developer friendly, driving true adoption by the right teams
Protects full lifecycle, from source to pipeline to deployed apps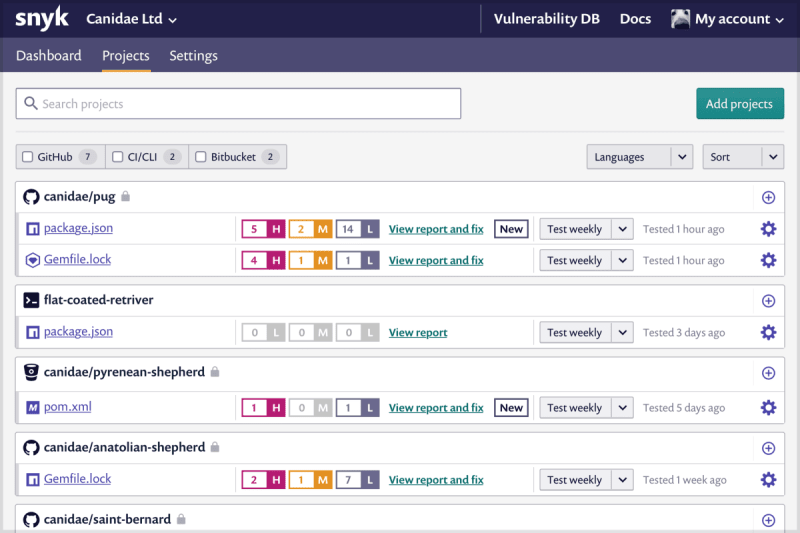 Great teams trust Snyk to protect their apps

"Snyk's immediate notification on a newly disclosed critical Ruby vulnerability enabled us to react quickly and upgrade our front-door applications using Snyk's automation."

Tom Czarniecki,

DigitalOcean
Announcing the 2017 State of Open Source Security Report
Today we're excited to launch the 2017 State of Open Source Security Report! The full report is available as a free PDF, and the highlights are collected online.

Tim Kadlec
November 16, 2017
Why triaging might be going away
One of the biggest bottlenecks in security is 'triaging'—the process of validating if a security alert is actually impacting your organization, sizing up the estimated impact, and figuring out how to resolve it. In this article, we'll make the case that we should all be striving to skip triaging and focus on fixing vulnerabilities instead.

Geva Solomonovich
November 02, 2017